Disclosure: I only recommend products I would use myself and all opinions expressed here are my own. This post may contain affiliate links that at no additional cost to you, I may earn a small commission.
Save your floors by finding the best vacuum for cat litter. Litter tracking is one of the most frustrating parts of cat ownership.
There's nothing worse than a crunchy, gritty feeling under your feet that's letting you know litter has been scattered.
A vacuum that sucks up litter swiftly is so important for preserving your floors against scratches and grime while creating a more sanitary household. Let's talk about how to find a good one.
In this article, we're going to review the following vacuums for cat litter:
A Buyer's Guide to the Best Vacuum for Cat Litter
Cat owners need cat vacuums. While some of us try to fight it for years, the reality is that fur, litter, and debris can leave the house feeling grimy. Especially if we're not going in with the right tools.
Do They Make Special Vacuums for Cat Litter?
The truth is that there's really no such thing as a vacuum "just" for cat litter. You have to do your best with the categories provided by vacuum manufacturers. Start by looking at vacuums that are specifically designed for households with pets.
Yes, you can purchase "regular" household vacuums that aren't necessarily made for pet homes that will probably work phenomenally for what you need. But if your goal is to pick up scattered cat litter, there's a particular reason why piggybacking on pet-friendly vacuums is such a smart strategy.
The perk of buying a vacuum for "pet households" for picking up litter is that vacuums in this category are also great for picking up pet hair without the tangled, frustrating results you often get with non-pet vacuums.
Not all vacuums have motorized brushes and attachments that are fast enough to suck up hair without getting stuck. Vacuums have generally gotten much better at not getting tangled up with all types of hair, string and debris in recent years. However, vacuums that are designed with pet hair in mind definitely have the edge.
There's another reason why vacuums marketed specifically as vacuums for pet homes can be important. These are the vacuums that tend to have HEPA filters. I'm going to cover more on why that's so important for the health of your household in just a moment.
However, you can probably guess why a good filter might be important if you're currently kicking up a haze of pet dander every time you fluff a pillow or shake out a blanket at your house.
What Makes a Vacuum Good for Cat Litter?
Suction power. This is what it comes down to when you're shopping for a pet-friendly vacuum. Motorized brushes that resist tangles can also be so important if you have a longhaired cat.
Attachments
Attachments can also make or break a vacuum that's being purchased for some cat-management purposes. Litter has a way of getting into corners, cracks, and crevices. Try to find vacuums with attachments capable of squeezing into these types of spaces to make your life easier.
Extendable Arms and Hoses
Many also have extendable arms and hoses that allow you to get all the benefits of a small handheld vacuum for tight spots, stairs, or upholstery. Even though you're using a larger vacuum.
Style/Operating Type
There are essentially no restrictions on the style of vacuum you can choose when shopping for a pet vacuum. In fact, my reviews below will be covering the following:
Two-in-one vacuums
Upright vacuums
Canister vacuums
Handheld vacuums
Stick vacuums
Robot/smart vacuums
You have to think about lifestyle when making your pick.
Upright, Canister and Steamer Vacuums
Do you want a vacuum that allows you to tackle scattered litter remnants while you're doing a deep vacuuming of the entire house? Consider something like a vacuum-steamer combo, upright vacuum, or canister vacuum.
Handheld Vacuum
Do you want a quick option that allows you to just "spot vacuum" the area around your cat's litter box every day? A handheld could be all you need.
Stick Vacuum
Does your home have lots of stairs? Pay attention to weight! A stick vacuum might be what you need for zapping up tracked litter without lugging a heavy vacuum around the house.
Robot Vacuum
Are you too busy to vacuum as much as you should? This is where removing obstacles to having a home that gets vacuumed regularly can be done by looking at a solution like a robot vacuum.
If it's been a few years since you tried a robot vacuum that left you less than impressed, you should know that the technology has been perfected in the past few years. New robot vacuums are actually self-emptying and self-charging units. And they can be programmed for specific times.
Should Cat Vacuums Be Corded or Cordless?
This is one of those big decision points. Again, it comes down to personal preference. If you intend to use your vacuum as a whole-house vacuum that will be used in every room, a corded vacuum has several advantages.
Pros of Corded Pet Vacuums
First, you can vacuum your entire house in a single session. There's no need to worry about running out of battery in the middle of a cleaning marathon. Unfortunately, most cordless vacuums on the market only offer between 10 minutes and 60 minutes of vacuuming time before it's time for recharging.
Cons of Corded Pet Vacuums
The downside to a corded vacuum is that it's often bulkier. If you have a larger home, you'll need to unplug the vacuum as you move from room to room. Storing a vacuum with a cord can also be more of a hassle.
Cordless Pet Vacuums
This brings us to cordless vacuums for cat litter. These tend to offer a short, peppy vacuum experience that's a little freer and quicker. This choice is great if you like to strategically vacuum in the area right around your cat's litter box.
Why You Might Want to Consider a Vacuum for Cat Litter
Yes, staying on top of scattered litter protects your floors. It also creates a hygienic home. A good vacuum protects your home's indoor air quality.
"Proteins found in saliva, urine, and feces from cats, dogs, and other pets can cause allergic reactions in some people," shares the American Lung Association. Litter that's tracked away from the box can carry all of these things. What's more, things like fur, dead skin, and bacteria on your cat's paws can all be tracked around your home.
Vacuuming regularly is one of the best ways to reduce pet dander in your home. If you are an allergy sufferer, look specifically for vacuums with HEPA filters.
There's also another benefit. According to the Environmental Protection Agency (EPA), regularly vacuuming a home with pets can protect your household against fleas and ticks.
"Be sure to vacuum the following areas: carpets, cushioned furniture, cracks, and crevices on floors, along baseboards and the basement," recommends the EPA. The agency also recommends steaming carpets to kill fleas.
FAQs
Can Any Kind of Vacuum Be Used for Cat Litter?
Technically, most vacuums will suck up cat litter without any problems. That doesn't mean that all vacuums are ideal for cat litter. Try to shop specifically for vacuums that are labeled as being for "pet hair." These vacuums tend to work best for households with pets because they often provide perks like strong suction, tangle-free motorized brushes, and HEPA filters.
Do They Make Handheld Vacuums for Pets?
Yes! Pet-friendly vacuums that are designed to pick up pet fur and dander actually come in all styles. You'll find pet vacuums that can suck up litter available as canister vacuums, upright vacuums, cordless vacuums, stick vacuums, and robot vacuums.
Is It Safe to Use Robot Vacuums With Cats?
Yes, robot vacuums are generally considered safe for households with pets. However, this requires a judgment call on behalf of a pet owner. Consider your cat's personality. Will a robot vacuum wandering the house cause her to feel stressed, agitated or scared? Do you have concerns that your cat might try to jump on a smart vacuum when you're not around to monitor the situation?
If you do decide to bring home a robot vacuum, be sure to monitor how your cat reacts to the vacuum for the first few sessions before setting the vacuum on a regular timer. Consider slowly introducing the vacuum to your cat to make her feel at ease before you turn it on for the first time.
Will Cat Litter Ruin a Vacuum?
Newer vacuums with decent motors should be able to handle small particles. Try to avoid vacuuming up litter clumps because these can harden inside your vacuum. Clay litter can potentially clog filters to make them less efficient. So you should also consider changing filters in vacuums more frequently if you're sucking up cat litter particles.
Reviews of the Best Vacuums for Cat Litter
This one is the all-around winner because it's a powerful design that saves you time while also leaving your floors looking better than you found them. As the name suggests, it allows you to vacuum and steam at the same time. I don't think most cat owners would have time to mop every time they need to vacuum up some litter. This mop builds in that next step for you with zero extra appliances required.
I know that two-in-one vacuums can sometimes have a reputation for being less powerful than traditional vacuums. That's not a problem with this revved-up Bissell. It uses cyclonic force that's actually strong enough to suck up both litter debris and pet hair. While it may already be obvious due to the fact that this is a steam vac, this vacuum is corded.
This vacuum-mop combo is appropriate for wood, ceramic, granite, marble, and linoleum floors. It's very gentle on floors because it uses soft pads. It actually brings me to one of the neat points about this vacuum that makes it such a great pick for cat-related debris specifically.
This model gives you a choice to use either disposable or washable pads based on what you're vacuuming up. The washable microfiber pads help you save money while cutting down on waste when you're using your vacuum-mop combo for some everyday cleaning. The disposable pads let you toss away your pad after you've been dealing with something messier.
Lastly, this pet-specific vacuum has that one feature that makes Bissel such a highly coveted vacuum brand. Yes, that drop-it tank that lets you take a hands-off approach to dump your debris is there. You just pop the top with your vacuum positioned over the trash can for a clean break.
Pros:
A powerful two-in-one machine
This is a pet-safe option because it makes steam using only water
The price is decent for a vacuum of this quality
Comes with several disposable pads to get you started
Has that signature Bissell drop-it tank
This vacuum packs in lots of power and features while weighing just 10 pounds
Cons:
Comes with only one reusable pad.
This vacuum might be considered essential if your cat has a habit of splashing in the litter box. It's also a good pick for a house that sees lots of litter tracking from multiple cats. This is an upright corded vacuum that uses a bag.
It's really the versatility of this vacuum that makes it the best vacuum for cat hair and litter in many ways. First, it can be used on both carpet and hardwood floors. It also comes with tools that make it easy to go after litter particles and pet hair stuck on furniture, stairs, and other complicated spots in your home.
The powerful suction on this vacuum is what makes you remember why "traditional" vacuums can be so great. Even if you're slightly worried about the "clunkiness" of a corded upright vacuum. Any feeling that you're going old school is offset by the fact that this is a bag-free model with an ultra-easy bottom-release dirt cup.
The performance of this vacuum is very smooth. That's mostly owed to its wind-tunnel technology with three suction channels to choose from.
The extra-wide nozzle on this vacuum is also appreciated. It empties into a high-capacity dirt cup that's great for simply allowing you to keep going without addressing little clogs every time you catch a clump of fur. However, I will say that the wider nozzle concerns me a little bit. When it comes to accidentally sucking up clumps of wet litter, they could "cement" inside your vacuum.
There are two more important features I want to cover in this vacuum. The first is its carbon HEPA filtration that helps to absorb odors. The second is a nifty 15-foot extended-reach nozzle that lets you get into tight spots where litter may be hiding. There's even a special crevice tool that lets you edge your way into tight spots.
Pros:
Great price
HEPA filtering
15-foot extended-reach nozzle is great for sucking up litter from crevices
Has special crevice, dusting, and turbo tools
Powerful suction
Can be used on carpets
Has a bottom-release dirt cup
Cons:
At 18 pounds, this can feel a little heavy to carry around the house. Luckily, the extender nozzle gives you some freedom to get into spaces without necessarily holding the body of the vacuum
This corded vacuum comes to the rescue if your house has lots of stairs, corners, and crowded surfaces because of its swivel steering. This feature allows this Shark to get into corners, under furniture, and right up against stair risers in ways that many other upright vacuums can't.
At 16 pounds, this vacuum is slightly lighter than most other uprights. While a few pounds may not seem like a big difference, this lighter design can make a world of difference when you're trying to climb stairs with your vacuum. The design of the vacuum actually makes for a very ergonomic experience that makes it feel much lighter than 16 pounds.
This vacuum can be used on both carpet and hardwood mode. There's even a special brush for removing pet hair and ground-in debris from carpets and upholstery. That attachment is particularly handy when freshening up carpeted stairs.
Some of the other important boxes checked by this vacuum include a HEPA filter, a large-capacity (0.88-quart) dust cup, and an LED headlight for dust detection. Of course, all of it only comes together to work so beautifully because of this vacuum's powerful lift-and-suck capabilities that come from a continuously spinning brush.
Pros:
The design makes this a great vacuum to carry around the house
Works beautifully on stairs
Made for both carpet and hardwood floors
Cordless
HEPA filter
Great for getting into corners and crevices using swivel steering
Cons:
The cord on this particular model can feel cumbersome sometimes
On the pricier side
This is the first classic canister vacuum to make a debut on the list. However, this is definitely not the canister vacuum you grew up with. I'll start with what I consider to be the vacuum's most valuable feature.
There's a telescoping aluminum wand that gives you an extra 10 feet of reach.
At 22 pounds, this vacuum can feel a little bit heavy. However, its ergonomic features definitely take a few pounds off as far as perceptions go.
One perk of using a full-bodied canister vacuum like this instead of one of the many popular upright vacuums sold today is that you're getting that old-school retractable cord instead of a wraparound cord. What's more, all of the attachments nest right into the vacuum for easy storage.
There are still tons of features to cover with this vacuum. Yes, it has you covered with a HEPA filter. There's also a nifty stair grip that allows the vacuum to rest easily on your staircase.
This vacuum is designed for all surface types!
The truth is that you can make this your all-purpose vacuum that you use anywhere from your kitchen to your garage. However, it's the "Pet Powermate" attachment that earns this model its spot in the running for the best vacuum for cat hair and litter. This motorized feature is what allows you to lift pet hair and debris without worrying about everything getting tangled up in your brush.
Pros:
Detachable motorized pet attachment lifts pet hair and debris with zero brush tangles
The stair grip is so appreciated for stress-free staircase vacuuming
Extended telescoping wand is excellent. It balances out the "clunkiness" of using a canister vacuum
Scratch-free performance on all surface types
Doesn't have to "just" be used for pet messes. This is a great all-purpose vacuum
Cons:
This is a pricier model. However, you can consider making this your all-purpose vacuum instead of only using it in "pet areas" of the house
Retractable cord
HEPA filter
At 22 pounds, it's not considered a lightweight vacuum
Here comes my pick for the best robot vacuum for cat litter. Let's start with the "tech specs" that make this such an obvious choice for busy cat owners.
First, this is a bag-free, self-emptying model with a base that holds about a month's worth of debris at once.
This vacuum doesn't miss a beat. It's designed with row-by-row cleaning technology that ensures your entire house is being cleaned using a coverage strategy instead of random movements. The vacuum actually maps your house to get better and better at covering everything each time it's activated.
The hands-off approach to owning this vacuum is appreciated if you're simply a busy person without the time to manage "one more thing" in your household. When the battery is used up, this smart vac returns to its base to recharge. It will get right back in the game to pick up where it left off once it's recharged.
Unlike the rest of the vacuums on my list, this one can be activated using both voice and app control! It syncs up with Google Assistant and Alexa.
Something else that impresses me is that a vacuum with a profile as sleek as this can actually work on all surfaces. The sturdy, efficient brush roll on this design works on both carpets and hard floors.
While I don't think photos of this vacuum convey its sturdiness, I'll point out that this one is built like a tank. It's going to be able to stand up to any "assaults" from your cat.
Pros:
So easy to use! You can schedule cleanings
Self-charging design
Self-emptying design
Base holds about a month's worth of debris
The roller is great on both carpets and hardwood
Cons:
Yes, it's expensive
A larger house might need two
It can't work on stairs
This is my pick for the best stick vacuum for cat litter because I'm thrilled about the combination of an affordable price with really strong performance.
Stick vacuums are great if you don't have tons of storage in your house. They're also easy for getting in and out quickly when you want to make daily litter scatterings disappear. This particular model makes your life easier with its cordless design and lightweight build.
I am supremely impressed by the fact that such a lightweight vacuum with a slim profile can handle both carpets and hard floors so easily. I'm also impressed by the fact that you can get 40 minutes of runtime without the annoying fading that happens with many rechargeable vacuums.
If you find the normal power mode on this vacuum to be a little too delicate for your needs, there's a MAX setting that ups performance on rugs and carpets.
The canister placement on this vacuum is also great for showing you exactly how full it's getting. The quick-pop emptying mechanism on the canister replicates what's offered with much pricier models.
I have a few more neat features I want to cover in this vacuum. The first is a thoughtful easy-rest feature that makes securely propping this unit up against your countertop a breeze.
There's also an "under furniture" reach setting that lets you angle the vacuum to fit perfectly under your furniture. In fact, you can even lay this vacuum down completely flat while still suctioning. Eureka actually moved the dust cup on this model to be able to fit in this feature.
Finally, there's a headlight to help you actually see litter and debris that's hiding under furniture.
Pros:
Great price
This vacuum is not a back breaker by any means! It weighs just over 5 pounds
Stores easily
40 minutes of vacuuming time is impressive
Angles easily get under furniture. It can actually go completely flat against your floor for great under-bed cleaning
The clear canister is placed for easy visibility. It also empties so easily
Cons:
Not meant specifically for pets/pet hair
No HEPA filter
I wish it could stand upright on its own
It's finally time to get to my pick for the best handheld vacuum for cat litter. It's really easy to commit to a model that's this affordable, small, and easy to use. If you don't have the space or budget to accommodate one of the fancier options I've shared here on my review list. This is such an accessible choice. It's even a great pick as a supplemental vac if you don't want to use your pricey main vacuum for litter.
The 0.7-liter dirt-cup capacity isn't bad when you consider its petite size. The dirt bin detaches for easy emptying. This vacuum also comes with a crevice tool, motorized brush, and upholstery tool to make it do more than you would expect.
Bissell doesn't provide any information about HEPA filtration with this unit. However, it does have "triple filtration" that seems to do a good job of making things feel cleaner.
Pros:
So affordable
Weighs just 3 pounds
Easy to maneuver
Decent-sized dirt cup
Empties easily
Three different attachments allow you to do so much with such a little vacuum
Great for furniture, crevices, stairs, and the area immediately surrounding your cat's litter box
Cons:
This is for "spot vacuuming" only. It can't replace a full-sized vacuum as far as vacuuming your floors
Run time is just 17 minutes. While that's more than enough when tidying up a litter-box area, it might be tough to finish things like staircases and furniture
The Verdict
Choosing my pick for the best cat litter vacuum was hard because every product on my list is essentially the best pick in its category. However, only the Bissell Symphony Pet Steam Mop and Steam Vacuum Cleaner checks every box without leaving too much to be desired.
I don't think you can do better than the cyclonic power combined with the steam capabilities.
I think this list really shows off what's out there in terms of different sizes and budgets. I suggest making a list of the three things that are most important to you when vacuuming your home to find the features that matter. I'm confident that you're going to find cat ownership even more enjoyable once you're able to start using a vacuum that helps to keep the floors and air inside your home fresher and cleaner.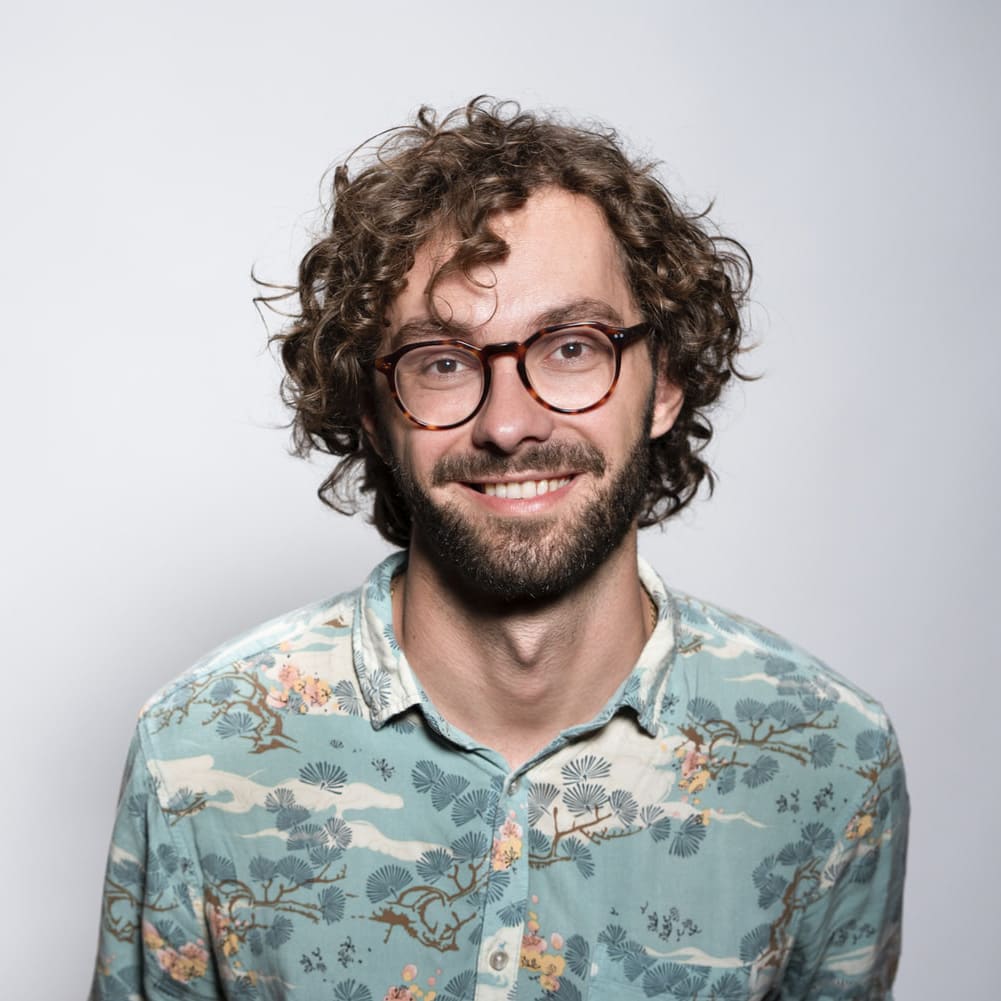 Brian is a proud cat parent and animal enthusiast who lives in the Northwestern United States with two cats. In his spare time, Brian likes traveling around with his pets, exploring new places, and writing. Sharing what he learned over the years of cat ownership brings him joy, and the cats teach him something new every day.