Your cat loves to go outside and explore, but you need a way to ensure they stay safe when they're out and about. The last thing you want is your cat getting hurt or lost because something scared them and they ran. One way to prevent this is to buy the best cat harness no escape available.
These harnesses will keep your cat secure. And you can get outside and bond with them while you both explore. We understand how difficult it can be to find the best harness. And this is why we researched for you.
You can take a look at our five reviews to compare several high-quality options. And we have a buyer's guide available that outlines everything you need to know about this harness style.
In this article, we're going to review the following cat harnesses for no escape:
Escape Proof Cat Harness Buyer's Guide
Many cat parents buy a harness as a way to allow their cat outside on a leash without worrying about them slipping out. It's much safer for your cat to have a controlled environment to explore. And this is what a harness provides because you decide where the cat does and doesn't go. You can help them avoid areas where they could get hurt, and you can control them if they get spooked and try to run.
Types of Cat Harnesses
Since there are several different types of cat harnesses available, it's a good idea to pick one or two styles from the start. This way, you'll narrow down your choices and won't get so overwhelmed. It's also easier to compare features with only a few harnesses instead of dozens.
Vest
Known as a walking jacket, this harness style gives you maximum security. These harnesses cover a much wider surface area than other styles. And this choice has fewer pinch points. Vest harnesses are slightly heavier than other designs, so they may not work well for smaller or older cats.
Step-In
Your cat will step into this harness to put it on. Once your cat steps in, you secure it with clips along their back. This is a lightweight and simple design. But you sacrifice some of the security of other harnesses. This is a good choice if your cat doesn't like something going over their head or wearing a jacket.
H-Style
The H-style harness wraps behind your cat's front legs and around the front of their body. There are buckles in two places, and this is an ideal setup for older cats. It's quick and easy to take off and put on with minimal fuss. Additionally, the multiple adjustment points make it secure.
Figure Eight
This is a hybrid harness that is a mix of the H-style, step-in, and vest harnesses. It usually has a padded area around your cat's chest, but it'll get tighter as your cat pulls on the leash. While this will keep them secure, it can stress your cat out as well.
Measuring Your Cat
No matter which harnesses style you choose, getting the correct fit is essential to your cat's safety. You'll want to measure around your cat's neck and right behind their front legs. This will give you the required measurements you need to ensure your harness fits. This YouTube video will outline which areas of your cat to measure.
Introducing Your Cat to the Harness
You don't want to put the harness on your cat, attach the leash, and expect them to like it. Instead, it's important you take time to introduce your cat to the harness itself. You can do this in several easy steps.
Hang the Harness by Your Cat's Area – The goal is to get the cat comfortable with the idea of the harness before you put it on them. To do this, hang or lay the harness by your cat's area and let them sniff it for a few days.

Have a Trial Run – Read the manual on how to put the harness on your cat. Put the harness on your cat in the house. Let them walk around with it on for a few hours at a time for two or three days. This is a great time to adjust the harness to get a snug fit.

Attach the Leash – Still indoors, attach the leash to the harness and walk around the house with your cat. Don't yank on the leash or try to pull them around. Instead, let the cat guide you around. Give them gentle tugs to redirect them.

Take Them Outdoors – Once your cat is comfortable with the harness and leash, it's time to take them outside. Let them walk out the door with the harness on, and keep a firm grip on the leash. Take your cat around your yard at first. You can slowly branch out to other areas.
Buying Considerations
Now you know how to introduce your cat to the harness and the various styles available. It's time to consider the buying points you want to keep in mind when you shop. Here are a few features you want to check for in your harness.
Adjustability
No matter what type of harness you get, it should allow you to adjust it. If your cat is still growing, you want a harness that will grow with them. Ideally, you should have at least one or two adjustment points. These points will help you tighten or loosen the harness as needed.
Comfort
You know your cat better than anyone. So, you'll most likely know what type of harness they will and won't tolerate. If you have a skittish cat, a harness that doesn't go over their head or make noises would be best. For adventurous cats, you need something more rugged and form-fitting.
Durability
How durable is your harness? Ideally, the harness will last for at least a few years. Look at the stitching. Double-stitches are more durable than a single row. And mesh fabric is prone to tearing. The attachment rings should be stainless steel to resist rust and corrosion.
Ease of Cleaning
Your cat's harness will eventually need cleaning. Do you have time to wash it by hand? If not, can it go into the washing machine without falling apart? How about drying it? Does it need to air dry, or can it go in the dryer?
Fit
You want your new harness to fit snugly to your cat without being too tight or too loose. If it is, your cat could either be uncomfortable or slip out. Double-check the weight restrictions for your harness, and check the harness's size. You can compare these to your cat's measurements to find a good fit.
Material
Cat harnesses come made out of several different types of material. If you live in a climate where it's hot or humid, a mesh harness offers a greater degree of breathability to prevent your cat from overheating. In the cooler months or colder climates, a leather harness or a harness with a warm lining is nice.
Safety Features
The harness should come equipped with several safety features. For example, having two attachment points is great if the first one fails. Does the harness close with Velcro or buckles? Usually, buckles are more secure. If you take your cat out after dusk, does it have reflective strips?
Set or Solo
Some harnesses come with a leash as part of a set, while others have just the harness. This is completely up to you because it's relatively easy to buy a leash to go with your harness. However, it's convenient to get both in one purchase.
Weight
Make sure the harness you pick out isn't too heavy for your cat to wear. If it is, it could be uncomfortable for them to wear for more than a few minutes at a time. This is particularly important in older or smaller cats.
Five Best Cat Harnesses No Escape Reviews
This universal cat harness comes in six different sizes to fit tiny and large cat breeds. There are also 13 different color combinations available, ranging from classic black and white to bright pink and red. These sizes and colors allow you to find the harness that fits your cat's personality and size for a snug fit.
The harness loops over your cat's chest and back before securing with a durable clip and leash attachment points. The style of the harness makes it impossible for your cat to slip out of once you get it on. You can adjust the harness to get a snug and secure fit around your cat's chest, waist, and neck.
The soft mesh fabric has some give to it. And this makes it comfortable for your cat to wear for extended periods without it chafing. The mesh is also very breathable. And this is important to prevent your cat from overheating when they wear their harness out in warm weather.
There are several reflective strips on this harness that increase your cat's visibility when they're out after dusk. The reflective strips will shine when any light hits it, and this will keep your cat safer. When you're ready to clean it, you can toss it into your washing machine before leaving it out to air dry.
Pros
Mesh is flexible and breathable
Has multiple adjustment points
Easy to clean and maintain
Uses a buckle to secure your cat
Available in several sizes and colors
Cons
Features a heavier design
Can be tricky to adjust
Possible for thinner cats to back out
This is a stylish and cute padded cat vest. It fits cats ranging from 2 to over 11 pounds comfortably without being too tight. There is a comprehensive sizing chart you can look at before you buy it to ensure you pick out the best vest for your cat's size and measurements.
The vest closes around your cat's chest and waist using magic tape. This ensures you can tighten it enough so your cat won't be able to slip out. The leash attaches to the back of this harness to keep it out of your cat's way as they're out and about. The attachment rings feature double-stitching with stainless steel design.
There are six color or pattern combinations that are sleek and stylish. You get a leash alongside the vest when you order. And it's ready to slip onto your cat right out of the box. The padding on this vest keeps your cat comfortable when they wear it. Additionally, the padding ensures the harness doesn't chafe if they pull on it.
The harness will survive wear and tear. Also, you can get it dirty by allowing your cat to go through different environments. When you get home, toss it into the washing machine before letting it air dry. The colors stay bright and looking like new through dozens of wears and washes.
Pros
Available in fun patterns and colors
Has additional padding throughout
Attachment point has double stitching
Reinforced stitching around the collar and leg holes
Equipped with an additional mesh layer for breathability
Cons
Lace details can unravel
Only uses magic tape to close it
Has a more narrow fit
This simple and slender H-shaped harness works well for cats up to 12 pounds and all ages. You buy them in sets of two, and there are 10 possible colors and small patterns. The simple design makes it quick and easy to slip the harness on your cat and adjust it to a secure fit.
There are dual adjustment points on the neck and waist portion of this harness. And it secures with plastic buckles. This design makes it almost impossible for your cat to slip back out of it once you get it on them. The edges of the harness feature durable stitching to prevent it from unraveling or falling apart with repeated use.
The harness connects to a leash along your cat's lower back. This keeps the leash out of your cat's way when they explore. This placement also makes it easier to direct your cat or pull them away from things if they start to stray too far away. You'll get a stainless steel ring to attach your leash to that resists rust and corrosion.
You'll find reflector strips built into this harness. They increase your cat's visibility when they're outside. The leash has reflective strips on it, too, that make you more visible to any oncoming vehicles or people.
Pros
Comes with two harnesses per purchase
Available in several colors
Has a very simple design
H shape hugs your cat to prevent escape
Has a stainless steel attachment
Pros
Not suitable for larger cats
Has a slightly thinner design
Not long enough for some breeds
This fun harness comes with a bright and bold retro design that will catch attention every time you take your cat out. Two loops go around your cat's neck and behind their legs to keep them securely in the harness. And this design prevents them from backing out and escaping.
The drawstring of this harness features a reflective strip that enhances your cat's visibility during the night or after dusk. It comes woven right into the fabric, and it won't wear away with repeated washing or uses. The stitching runs along each edge to add durability to the build.
There are two adjustment points on the harness that help you get a snug fit. You'll have one on the neck part and on the waste portion. Each section also has a buckle that secures the harness to your cat. They make it very easy to put this harness on or slip it back off again.
You'll get a leash when you order this harness in the same pattern. The leash has a reinforced layer that creates a loop for the clasp to go in. This ensures it doesn't break away and let your cat loose. The top of the harness has this reinforced layer as well. There is a small pink flower that you can remove or move around anywhere you like on the harness.
Pros
Has a bold and eye-catching pattern
Dual buckles are easy to put on and take off
Comes with a matching leash
Has reinforced stitching
Has dual adjustment points
Cons
Too small for larger cats
Material tends to slip
May dull over time
This harness comes in three colors with a plaid pattern and two different sizes that allow you to get a secure fit. You can easily adjust the neck and waist girth to ensure there is no slack in the harness. This reduces the chances of your cat escaping when you put the harness on them.
The secure buckles will help hold your cat in the harness, and they won't slip or break apart. The harness's material is soft, comfortable, and padded to prevent chafing. The interior layer is a mesh. And this mesh makes the entire vest cooler against your cat. In turn, you can take them out in warmer weather without worrying about them overheating.
There are dual attachment rings on the back of the harness that gives you an added layer of security. Should one ring breakaway, you'll have a second attached that keeps your cat safe. The rings run underneath the thicker fabric to ensure they can't pull away if your cat tries to run.
The included leash is almost five feet long. And this length gives your cat plenty of areas to wander when you take them out. When it's time to clean this harness, you can either wash it by hand or put it in the gentle cycle. Lay it out, let it air dry, and it'll be ready to go.
Pros
Has a cute plaid design
Features larger buckles
Has a padded design for extra comfort
Inner mesh layer keeps the vest cool
Features dual attachment points
Cons
Fabric isn't resistant to tears
Doesn't fit larger cats
Neck is very thick


The Verdict
Our pick for the best cat harness no escape is the GAUTERF Cat Universal Harness with Leash Set because it comes in several different sizes that allow you to get a very secure fit to your cat's waist and neck. We liked that the harness uses clips to secure instead of Velcro. This way it is less likely to give if our cat pulled on it.
The mesh fabric was another selling point because it had a little stretch without breaking. And the mesh made the harness very breathable. The reflective strips increased the cat's visibility. This was helpful if we decided to take them out after dusk. Finally, the harness was very easy to clean and maintain. This makes it easy to ensure it was ready to go when your cat wanted to go out.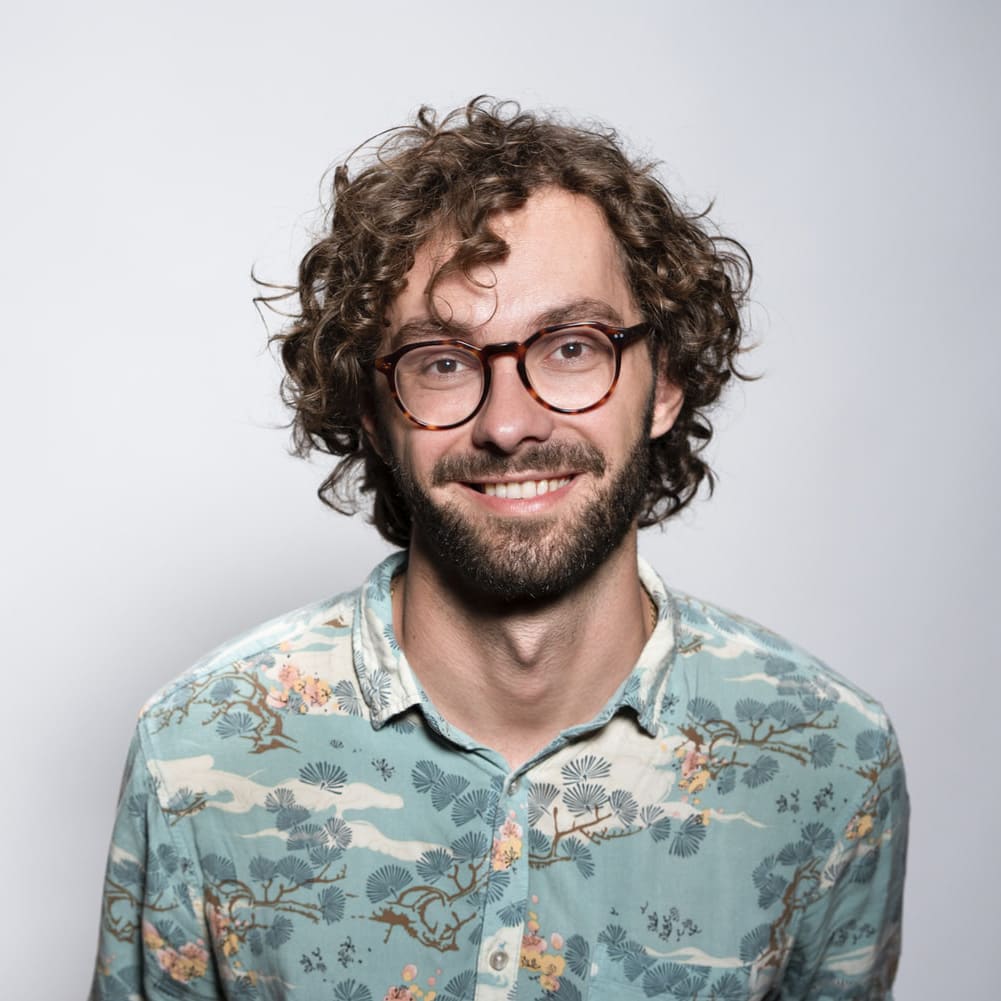 Brian is a proud cat parent and animal enthusiast who lives in the Northwestern United States with two cats. In his spare time, Brian likes traveling around with his pets, exploring new places, and writing. Sharing what he learned over the years of cat ownership brings him joy, and the cats teach him something new every day.